I'll Have the Can, Hold the Cups
Somewhere over the Grand Canyon at 30,000 feet -- I was sipping from a plastic cup of cool water. The flight attendant swept by in short order with a plastic bag to collect the "trash." Not an hour later, along comes the metal cart (keep your knees and elbows in if you're on the aisle) with another drink service, and another hard plastic cup, including the funky-smelling, sandpaper-like logoed napkin. So what was wrong with the previous ones? I'd sipped from the cup which was completely unscathed, and never touched the napkin. I would have been happy to hold onto both for an hour to re-use for the refill. Even if I switched to soda, so what?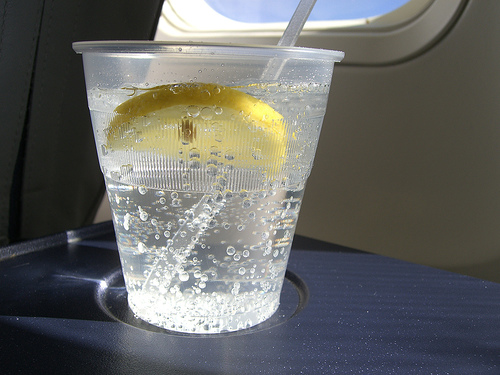 Photo courtesy of Russell J. Smith via Creative Commons license.
Apparently this nonsensical system is so ingrained in the flight attendant's routine that my request to NOT use a new plastic cup and just give me the can of cranberry juice upset the apple cart, so to speak. With a look of mild disdain, she slammed a fresh cup onto my little tray along with the full can. Well excuuuse me for trying to be green!?
This scenario is played out millions of times per day throughout the world. The net effect is untold tonnage of plastic and waste paper, some that will be recycled and probably even more that will end up in landfill. Some finding their way into waterways and oceans. As we know, clear hard plastics can last seemingly for decades as they just don't degrade. What an unnecessary tragedy of anti-sustainability. One that seemingly would be so easy to fix.
I have given this a lot of thought and attempted to speak with the airlines to find out why a better system is not in place. Such as, give people the aluminum cans, wipe off the tops, and allow them to drink directly from the easily recyclable can. No napkin unless the customer asks. Thus NO plastic would be needed. For those who don't want a full can of beverage, why not paper cups? And if it's a longer flight with two or more drink services, why not ask passengers to keep their first cup and simply re-use it. This alone would save literally millions of plastic cups and napkins per year. Not to mention, save the airlines sizable costs. Sounds rational, right?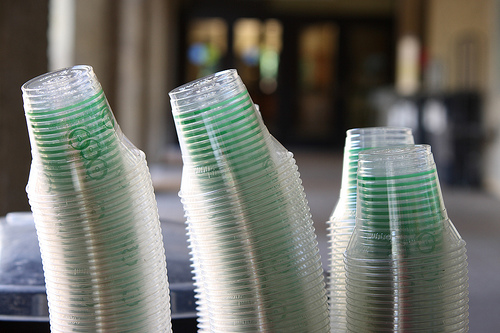 Stacks of plastic cups. Photo courtesy of John Loo via Creative Commons license.
Our staff at Sierra Club Green Home contacted several leading airline PR departments, seeking an answer to this seemingly simple question: why use so many plastic cups, and what happens to them when the plane lands? To our surprise, it was difficult to obtain a straight answer to this question, and even more difficult to figure out why. Most of the responses we received from the major carriers talked about recycling programs in varying degrees, as well as their commitments to reduce carbon footprint and save energy. Most of these initiatives target reducing volume of jet fuel consumed, an appropriate goal indeed. Yet not one carrier would specifically answer us about why they are compelled to use two or three cups and napkins per passenger instead of one on most flights? Maybe the cup and napkin manufacturers are the brother-in-laws of major airline CEOs?
There was only one airline that responded to our queries with a professional, well researched series of answers. That was Liz Landau of US Airways, Corporate Communications. Here are excerpts from our dialog with Landau:
Does US Airways compost food waste, recycle cans, plastics, etc.?
Two thirds of our 104 domestic stations have a recycling program; US Airways participates in 80 percent of these programs.


Aluminum cans consumed in-flight are recycled in many locations. All trash collected off flights within New York state is recycled.


Waste oil, tools, equipment batteries, battery cores, aluminum and other scrap metals from all Maintenance and Ground Service Equipment (GSE) locations (several dumpsters for collection are readily available) are sent to recycling centers. Radio, phone, and all miscellaneous batteries are collected and recycled; money generated goes to the US Airways Education Foundation.


US Airways has a computer recycling program that recycles beyond economic repair hardware including computers, monitors, printers, keyboards, fax machines, phones, and other accessory equipment (e.g. mice, external hard drives, etc.).
How many plastic cups are thrown away on an average, full capacity, longer distance domestic flight?
On a longer 757/A321 segment, we use an average of 350 cups for a full flight (includes two beverage services).
Why aren't customers asked to reuse their cups or better yet, just take the cans on long flights?
We don't usually ask customers to reuse cups due to hygienic/health risks associated with flight attendants handling the cups a second time. Additionally, if customers choose to switch beverages, they might not want to mix their leftover tomato juice with a soft drink.


As it relates to cans, pouring allows another opportunity for our flight attendants to provide excellent customer service. From a cost perspective, pouring into the cup does save money as we can generally provide two customers with beverages from one can.
We appreciated US Airways' thoughtful and detailed replies. Their admirable list of sustainable activities -- and there are many that we are not listing here -- is impressive. However, as you can read above, when it comes to plastic cups, there is still a long way to go. Just yesterday I asked a Southwest flight attendant for just the can, no cup, and I ended up with not one but two cups in addition to a can of sparkling water. Not sure how that happened?
Perhaps the most nonsensical response came from United Airlines. "We have looked at the questions and our challenge is one of timing. I trust you know that United and Continental merged effective Oct. 1, 2010... there are elements of our two operations that we can harmonize now in advance of the FAA approval. Our approach to recycling and sustainability is one of those areas we begin to harmonize... Bottomline: I do not have answers for you and the answers are likely to evolve as we harmonize the approaches of our two airlines. My fear is that the answers will be misinterpreted by readers and they may assume the approach indicated is for both United and Continental, especially since the Continental brand name is going away," explained Michael Trevino, PR representative for United's Chicago headquarters. In fairness, United's Corporate Responsibility Report tells an impressive story of what the airline is doing to cut its carbon footprint and consumption of jet fuel. And they do claim to have a recycling program for on-board waste. That said, what am I missing here? How about an answer as to how United itself, pre-merger, handled the tons of plastic cup waste? We did ask for this but got more of the same as a reply.
What about Delta, which with its acquisition of Northwest is a dominant international airline? When our team asked "why don't you force customers to reuse their cups or better yet, just take the cans on long flights?" Our answer from their Corporate Communications representative, Trebor Banstetter, consisted of, "We're swamped with winter weather issues today so I haven't been able to find answers yet to most of your questions. We do, however, have robust in-flight and on-the-ground recycling programs. I'll let you know ASAP if I can find anything else." ... "Sorry we couldn't do more right now. Maybe in the future we'll have an opportunity to revisit the issue." To be fair, I dug into their corporate responsibility report and found detailed statistics about the success of their recycling program. The report states, "We instituted the first comprehensive in-flight recycling program in the industry in June 2007. ..."our in-flight recycling program has diverted 4.1 million pounds (2,053 tons) of aluminum, plastic and paper products from community landfills between June 2007 and June 2009." ... "We currently collect passenger recyclables on domestic flights into 25 cities."
Attention airline CEOs and Sustainability Directors: why not do something right now that doesn't require expensive R&D, or teams of engineers and prototype fuselages and engines? Not to mention, one that cuts costs and increases profitability? I'm sure your Boards and shareholders would love this idea.
If anybody out there is a flight attendant and can explain why this lunacy continues, please explain, we'd love to hear from you. In the meantime, tell the flight attendants you want just the can, no napkin, next time you need a shot of carbonated caffeine while in the air. This is how we will make the world more sustainable -- one small, but in this case significant step, at a time.
-- Jennifer Schwab, Sierra Club Green Home